The "Glaslager" loft is located on the ground floor of the "Möbius Lofts" building, making it the lowest of the three apartments.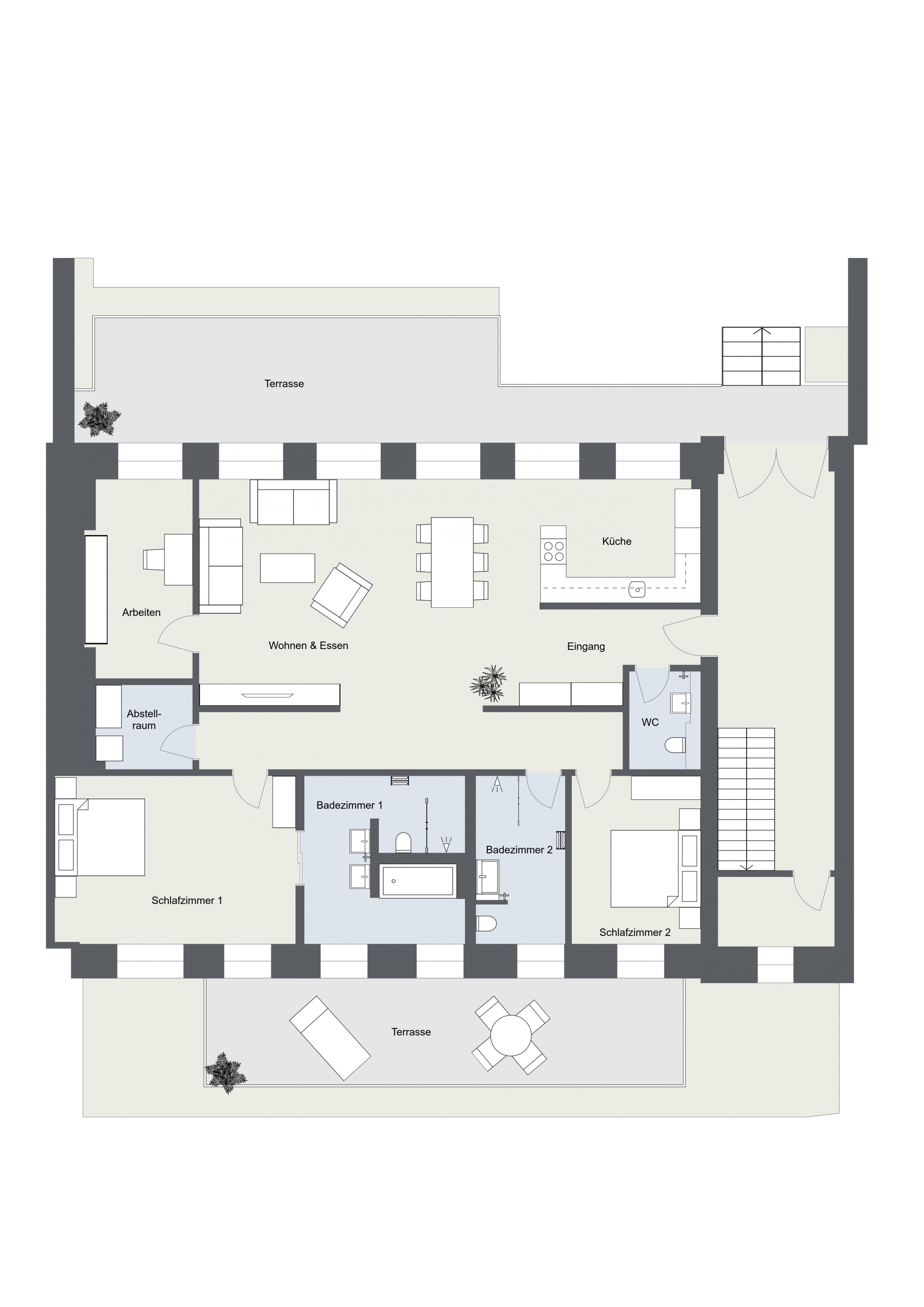 In addition to a spacious living and dining area with an open kitchen, the "Glaslager" includes two bedrooms, two bathrooms, a separate guest toilet, and a study. Furthermore, this apartment has two terraces.
The highlight of the "Glaslager" is certainly the open and spacious area between the kitchen, dining, and living areas. We have installed an internal window to the adjacent study, so that the views can be expanded even further, and you can overlook and see the entire length of the apartment from the kitchen to the study. This makes the actual living and social area a constant communication zone.
At the same time, we have placed special emphasis on high-quality materials and a cozy atmosphere when selecting furniture. The Chesterfield sofas in the living area are made of soft and cuddly leather. The dining table is made of natural oak, and the chairs are swivel chairs made of a soft and comfortable material. The lighting is friendly, cozy, and radiates warmth and security.
The kitchen includes high-quality built-in appliances. There is a refrigerator, freezer, convection oven with steam function, induction cooker, and dishwasher available. Cutlery, crockery, glasses, and cooking utensils are available in sufficient quantities. In addition, we have installed an osmosis water filter system so that you always have enough drinking water of the highest quality during your stay.
In the lounge, you will find a large smart TV (Samsung) that provides free access to Netflix and Wow subscriptions. In addition, you can freely use a game console (Playstation3) and various board games.
The two bathrooms are each equipped with a toilet, sink, and large, stepless shower. The master bathroom also has a bathtub. There is also an additional guest toilet with a sink.
Both bedrooms have a comfortable king-size box spring bed and storage space for your clothes. The rooms can be darkened with thick and opaque curtains so that nothing stands in the way of a longer sleep.
We have kept the study in a clear and straightforward design. Nothing unnecessary should distract your concentration. You sit on a comfortable office swivel chair at a high-quality USM desk. For your laptop, you will find a USB connection cable to a prepared docking station with 2 separate PC screens, a keyboard (German layout), and a mouse. There are also enough power outlets and USB ports available for charging.
In the storage room, there is a washer-dryer and an iron with an ironing board available for your free use.